| | |
| --- | --- |
| LIA LUACHRA - "Traffic" | RATING: ***** |
| Malgamu Music MALGCD114 (2000) | Reviewer: Ian Clarke |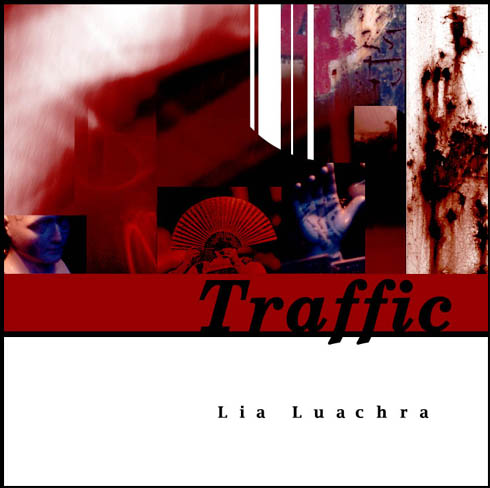 - click on image to go to Malgamu Website
With Lia Luachra's second release "Traffic" the band confirms its status as the most exciting and progressive of our new wave of trad bands. While each member has their own distinctive style, all four contribute their considerable creative talents so fully, and apparently intuitively, that they are like Siamese quadruplets, so harmonious is the result.
This album is different from their debut, featuring many original tunes (mainly by Shane Bracken, Declan Corey and some of their friends) and 4 songs (written by Jon Hicks) and the result is a more thoughtful, subtle musical direction. The reckless, flamboyant feel of the debut is gone, replaced by a more urgent, controlled sound which although dense and less immediately accessible, captivates you as it unfolds layer upon layer with successive listens.
That's not to say that the playing is too serious. There's plenty of exuberant fun. The first two sets of tunes, Changing Silver and Sprained Ankle are bright and breezy with Corey's mandolin and Bracken's concertina duetting and duelling through a variety of changing folk rhythms, Irish and European, Tricia Hutton's fiddle glides along in seamless harmonies before taking a lead in the final reel. All immaculately accompanied by Hicks' strong guitar strumming and picking.
The first song "Sleeping at the Wheel" has an airy, laid back quality and could be Nick Drake or early John Martyn with some lovely light jazzy sequences with guitar fingerpicking and box and nice vocal support from Naimh Parsons. The more you hear it the more you realise just how good it is.
"Traffic" is an almost surreal, jazz influenced piece which captures a mood rather like a soundtrack of a film set in a 1950's French cafe and once again demands and deserves many listens. Don't try to categorise this music - just let it sink in slowly.
A more conventional set of Bracken tunes follows in "Threads" to get the feet tapping again building slowly as only LL tracks can, lead by concertina and fluid tinkling mandolin. Paul Kelly adds some lovely mellow viola.
Hick's second song "Never the Home Life" is a powerful piece, rhythmic and string driven with a catchy refrain and about the best mandolin solo you'll ever hear. His style is very English folk - references to Martin Carthy et al here. Excellent stuff.
"Charlie's Car" is a great showcase set which leaps along at a great pace and shows off the dexterity of all of the players as individuals and as a unit. Faultless and mesmerising.
Bracken's "Borrowed Space", a slow piece with the gently sweeping rhythm of a formal dance, lacks the memorable melody of Mischief Anneal from the first album. It feels a litle tentative and unfinished to me. However, it offers a pleasantly relaxing diversion.
"Roll Me in Clover" is another song in the Carthy / Martyn style with the slapping and picking guitar style perfectly matched by light strokes from fiddle and box. Another interesting and thoughtfully arranged song which is worth spending some time with.
"The Piper and the Pony" set is perhaps the most conventional set of tunes and includes Peter O'Hanlon's title tune once again played with spirit and style. Over 5 minutes long and it seems to pass in a flash. Corey's brilliant mandolin again to the fore and wonderful interplay between fiddle and concertina.
"The Older Lands" is another song stamped by Hick's idiosyncratic style with it's myriad stylistic influences. The rhythm shifts gear a few times and there are some nice instrumental tangents taken by fiddle and concertina. Niamh Parsons lends a hand again with vocals. Another grower but never, I think, a song to hum along to.
The quirky closing track "Morticia the Greek" is a wondeful live showcase for Corey but probably the weakest on the CD lacking the arrangement and depth of the other tunes but nevertheless a dramatic Greek style romp to sign off a super album.
Lia Luachra consolidate their reputation with this recording and deserve to achieve a much higher profile in Irish folk music. They'll probably never be accepted by purists but then neither were Planxty. "Traffic" is not an immediate hit - buy The Corrs for that, but be assured that any effort you put into listening to it will be amply rewarded.