SATURDAY 8th DECEMBER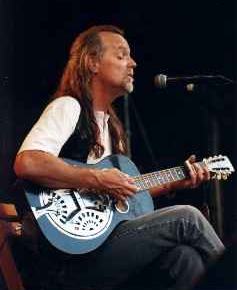 Terry Lee Hale
Born in Texas in 1953, Terry Lee Hale has been a wandering musician for most of his life since buying his first guitar at the age of 14. During his travels he has absorbed many of the different musical styles for which America is so rich. From Hank Williams, Duane Eddy, Fats Domino to Beatles, Stones, Dylan and later on Van Morrison, Joni Mitchell and Rev Gary Davis.
His acoustic folk and blues style owes much to our own Luka Bloom and the great Richard Thompson and he plays a range of guitars in a variety of tunings. Following several early tape releases he has now produced 6 CDs, the most recent "The Blue Room" in 2000 getting great reviews.
Terry has lived in Europe for the last few years picking up new musical influences, friends and stories. He has lots of tales to tell, of life as a carpenter, truck driver, bartender, ranch hand, booking agent and musician. What more could you ask ?
Admission £5
Doors Open 8:30