PETER MULVEY - The Urban Folk Tradition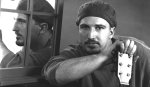 Plus SUPPORT
SATURDAY 19th MAY
Venue: Denvir's Hotel
Doors open at 8:30 pm
Admission: only £5
Peter Mulvey, a Drama graduate from Milwaukee, is no stranger to these shores. After leaving college he busked his way round Dublin, developing his remarkable performing style and also a deep love of the place. A favourite with Downpatrick audiences, with rave reviews from the Ards Guitar Festival and alive album "Glencree" (not Drumcree) recorded here, he's almost an honorary citizen.
Sadly his handmade Lowden guitar was stolen from his car recently but he continues to make some of the most exciting and impossible acoustic music you've ever heard. Well known for his off-the-wall tunings and frenetic guitar picking, he blitzes audiences wherever he goes.
In 1996 his debut album "Rapture" was released to universal acclaim. Tours followed (including Ireland of course) and a second album "Deep Blue" (1997) confirmed his promise and had critics singing his praises again. With his latest CD "The Trouble with Poets" he continues to build a significant following from a growing band of musically literate folk fans with his blend of modern, underground songs.
With a great deep, sexy voice and a disarming stage persona, it is no surprise that Mulvey has come from subway busker, to rising support artist, and he is now a respected international star, much in demand. And yet he's still a down-to-earth, nice guy and I remember last year when he turned up at Speedy Mullan's Bar the Sunday after his gig and sat in on a session.
Peter's visit to Downpatrick Folk Club is his fifth in 5 years - it's basically an annual pilgrimage. Lovers of great guitar playing will marvel at his fluid, frenetic and funky style and strange, wonderful tunings. And if you just like a good song, Mulvey has plenty to make you laugh, cry, think or just enjoy. Folk music for the modern world. Get along to hear what "live" music is all about. He's young, fresh and he's dangerous!
WHAT THE CRITICS SAID....
"Mulvey exudes talent" .... Sing Out
"... a pleasure both to see and hear" ..... Music Reviews Quarterly
".. funky urban rhythm ... insightful lyrics ... mesmerising " ..... Morning Call
"... the guitar work burns with a fiery abandon" ....Out 'n About
"Astounding lyricism and percussive, inventive guitar" ..... Milwaukee Express
"Mulvey is a singer/songwriter in a league of his own" ..... Louisville Music News