LUNASA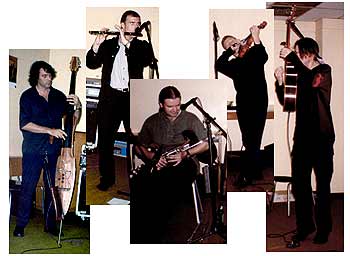 "Otherworld"
1999 Green Linnet Records GLCD 1200
Lunasa's 1998 album was a very promising debut and I eagerly awaited the new one. The line up on this CD has changed slightly with Kevin Crawford replacing Mike McGoldrick on flute and joining original members Sean Smyth (fiddle), Donogh Hennessy (guitar), Trevor Hutchinson (bass) and John McSherry (pipes). In the current touring band Cillian Vallely has since replaced McSherry.
McGoldrick features strongly as a guest musician and never better than on the first track - a set of reels written by Hennessy and Crawford with superb whistle and flute harmonies over jazzy guitar and bass rhythms.
Smyth and McSherry duet nicely on "The Floating Crowbar" before Smyth's fiddle takes over above excellent guitar, bass and bodhran for "McGlinchey's". The band all come together for a rousing climax and it is an extremely effective arrangement, brilliantly played.
Distinctive McGoldrick low whistle and pipes lift the next reels "Butlers of Glen Avenue" and the sound is very Bothy Band except for Hutchinson's double bass which adds extra depth and tone.
The band then prove they can drop the tempo for an air - "January Snow" played almost baroque style by Crawford on flute followed by the faster Phil Cunningham tune Laura Lynn Cunningham. I think that more could have been done with the arrangement on the air and I don't really think the tunes pair very well.
"The Miller of Drohan" is played as a slow reel and there are some good harmonies between flute and whistles plus tasteful additional cello by Hutchinson but ultimately I don't find it particularly memorable.
The accompaniment drowns much of Sean Smyth's lovely fiddle work on "Dr Gilbert's" - the bass is too intrusive and there is a distracting guitar effect. The final reel, People's "Black Pat" is the most effective in its direct simplicity and nice interplay between Crawford's flute, McGoldrick's pipes and the less intrusive guitar and bass rhythms.
Hennessy shows off some super solo finger picking on "Autumn Child" and as flute, whistle and fiddle join in the melody builds nicely until McSherry's pipes sound their ominous tone for the march "Heaton Chapel". Once again I don't think the set fits together particularly well.
Stolen Apples is an interesting tune with a chamber music feel to its tempo and arrangement. A very pleasant and civilised musical interlude.
The next set, Hennessy's "Taylor's Bar 4 am" and McGoldrick's "Ceol na Mara" is another slowish one and I feel at this point that Lunasa have slightly lost the balance of the CD. This tune might have been better moved to the last track of the CD.
They are best at the kind of track that follows - a rousing set starting with "Lafferty's Reel" and featuring the "duelling uilleanns" of McSherry and McGoldrick but just as they threaten to get back on track the CD ends with another sedate offering "O'Carolan's Welcome" and "Rolling in the Barrel" neither particularly strong and finishing (appropriately) with a fade out.
This is a pity because the CD has lots of fine playing and good arrangement. I would have liked Sean Smyth's fiddle to have been mixed more prominently - it is dominated by pipes and whistles too often. It is a very good album but they have still some way to go to match Solas for musical ideas, track selection and production. Maybe next time.
RATING: ****