| | |
| --- | --- |
| MICK HANLY | RATING: **** |
| "Wooden Horses" | Reviewer: Brendan Carson |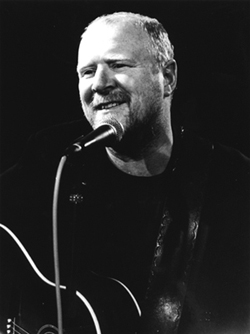 - Mick Hanly proving he is no burnt out star.
The master strikes again! Mick played the club recently to a great reception and a lot of the songs from this album were featured.
In addition to his own inimitable style and superb lyrical craftsmanship, he is joined with a crowd of 11 excellent musicians and singers to make this a great little record. Club regulars will instantly recognise names like Tola Custy and Josephine Marsh.
The recording took place in P.J. Curtis' home in County Clare. There is no fancy post production work here which means that the sounds are truly authentic. It's nice to see a simple approach to the music working so well.
What isn't simple is the excellent singing and musicianship throughout the album. He kicks off with the title track which recycles an old favourite tune, that of Roseville Fair and others. In this incarnation it works really well with remembrances of childhood games and innocent sweethearts.
'You're a Big Girl Now' touches some really raw nerves. It tells of the anguish of parents whose little girl moves away from home and rejects any help, advice or guidance. Mick sings this like it was about his own girl, and maybe it is.
Virtuoso harmonica player Mick Kinsella kicks off 'Burnt Out Star' and it reminds me a little bit of the tune of 'Monterey' sung by Mary Black. This is great playing that adds a depth and haunting quality to the song.
The next number is great craic altogether. 'A Wedding and a Funeral' pokes fun at the two big events in life. I really love the line ' Jenny got a husband, Benny got a roasting, Benny got a roasting in his Sunday suit.' Nice upbeat rhythm and more excellent harmonica.
Mick told the story behind the next song - 'Mrs O'Neill'. The local outsider family that suddenly becomes everybody's friend during a cold snap when there was no water except in Mrs O'Neills and gets dropped just as quickly when the need disappeared. The final lines say it all
She waited, she waited in vain,

Her beautiful dreams disappeared in the rain,

Then one day Jim dropped his paper and said,

I'm glad we're rid of those fuckers.
Lovely Accordion playing from Josephine Marsh draws out the loneliness of the lyrics.
She Sang Stardust is probably my favourite song on the CD. I'm not entirely sure what it's about but it's sheer poetry. Declan Corey dances around the words with tasty mandolin playing.
Without the Fanfare was famously recorded by Mary Black but this is Mick's song and his singing of it adds more than any cover version could possibly bring to it. The string backings on violin, viola and cello with some delicious harmonica make for a really powerful rendition of the song.
Probably the first album of Mick's that I heard was 'A Kiss in the Morning Early' and his song 'The Golden Key Bar' uses a lot of the musical phrases from this song. From a historical point of view it gives an interesting insight into Mick's start on a long road which has taken him to places he wouldn't have believed and to musical heights that he could only have dreamed of. I must admit that I sympathise with the regulars from the bar and with Mrs Mac's dilemma.
Another familiar tune gets a reworking in 'If This Be Love' This is the air of a song sung in Gaelic by Michael O Domhnaill [and it's driving me nuts that I can't remember the name of it] but it is perfect for the words of this song.
I don't have enough room here to mention all the songs but this is a really fine album from one of the greats in Irish Folk and Country music - BUY IT!
By the way the artwork by Ellen Hanly aged 7 is brilliant!