LIA LUACHRA
"Lia Luachra" 1998
Malgamu Music
MALGCD112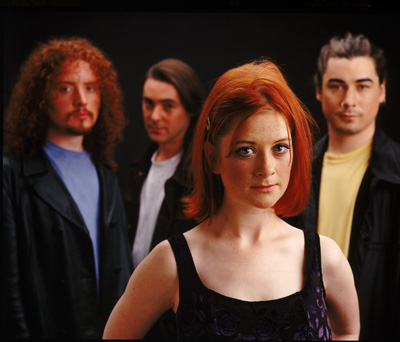 Lia Luachra is one of a new generation of young traditional groups which fuses musical influences from all kinds of folk traditions, mainly Irish, but also Breton and Eastern European. The members are Dubliner Shane Bracken (concertina) and Tricia Hutton from Carlow (fiddle) along with Tyrone man Declan Corey (mandolin) and Jon Hicks from the North of England (guitar and vocals). This is their remarkable debut album.
From the opening bars of the first tunes "Paddy Taylors", with the brilliant interplay between guitar and mandolin, you're hooked and by the time they are joined by box and bow your day has already brightened considerably. The band play with real verve and are a breath of fresh air (to the ear!).
The party continues with the "Curlicue" jigs and the band get into full swing with Bracken pumping away on lead concertina and Tricia matching him stride for stride. When the string section arrives the tunes really take flight and the track has a wonderful energy.
The arrangement of "End of the Day" reels is superb as it builds to a crescendo dramatically with the petite Tricia's flowing strokes to the fore and Hick's guitar providing subtle and sympathetic rhythm. Box and mandolin join the serpentine set which twists tantalisingly allowing each member to display their virtuosity.
Shane's exquisite slow air "Mischief Anneal" is one of the most memorable original pieces I've heard for years. Its melody haunts you for ages. It's one of the few slow tunes I want to just keep on going. Declan's mandolin playing is delicate and melodic throughout and guest Paul Kelly adds some beautiful viola. A masterpiece.
Freddie White fans will admire the version here of Hoyt Axton's "Gypsy Moth". Hicks' voice has a White-like richness and depth. The playing is again marvelous, the arrangement perfectly blends each instrument into a harmonious whole.
"B 4 C" is a great pair of jigs featuring duetting mandolin and guitar and shows just how tightly these guys play together, not simply the same notes, but harmonising sympathetically.
Shane then explores a delicate slow air learned from the late, great piper Seamus Ennis. Fine playing but I preferred Shane's own "Mischief" and would personally have liked another song here.
More jigs follow in "Noimead Ar Bith Anois" and Corey's mandolin is outstanding. Every note is clear as a bell and once again all of the instruments blend to perfection. The pace is lively and foot tappingly addictive.
Jon Hicks takes the lead on his second (and sadly last) song "See It Come Down", a Leon Rosselson ecology protest with great lyrics and powerful message. His voice has an aching tone which suits the theme and Bracken adds some lovely jazzy box runs but it is Hicks' guitar playing that steals the show.
Declan's own waltz tune "Two Black Russians" has a wonderful Zhivago-esque sweep with its lovely mix of fiddle and mandolin. Once again it makes you feel like getting up and doing a Cossack dance. Apparently however it was inspired, not by the Soviet Republic, but by Tricia's favourite alcoholic beverage.
The closing set "Ebb Tide/ Ladies 2nd Choice" is a hornpipe and barndance which starts off just mandolin and builds as box, fiddle and guitar finish off in elegant style.
One of the reasons that I play this CD so often is that it achieves a real clarity and balance between the players and yet captures the exciting live sound we know from the band's gigs at Downpatrick Folk Music Club. An amazing compromise between complete control and total abandonment. Credit must go to John Whelan and Paul Kelly for the superb production. Lia Luachra put a lot of thought into the arrangements. Too many traditional groups neglect this in the studio and end up sounding "flat" - more like a ceili or session. On Lia Luachra, the individual players all get a chance to play to their own strengths and the sound they create is unique and refreshing. More power to their collective elbows and fingers but a few more (extra) songs next time would be even better.
CLICK ON THE PIC TO GO THERE AND SAMPLE SOME OF THEIR MUSIC AVAILABLE AS MP3 DOWNLOADS
Rating * * * * *