HISTORY OF
DOWNPATRICK FOLK MUSIC CLUB
The club has been at the heart of the cultural life of the County Town of Down for over a quarter of a century and has played host to the finest in Irish traditional and Folk musicians in the world. We are also famous for the wide range of music forms from Ireland and abroad.
Downpatrick Folk Music Club is a not for profit organisation and membership is open to everyone regardless of class, creed, sex, sexual orientation, disability, or political viewpoint. The club does not permit the singing of sectarian or racist songs and that's about the only censorship that we apply. If you love traditional or folk music in any of it's forms you will be made very welcome here!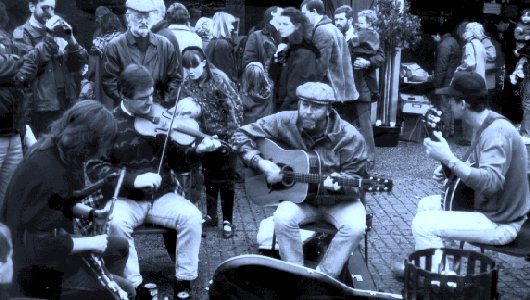 In the early 70's the Folk Club met in various locations including Denvir's Hotel before it secured its own premises at Pillarwell Lane where it thrived during the 70's and 80's. The Pillarwell Lane was a great venue but fell gradually into disrepair and financial pressures forced the club to sell up in 1999 and move back to share Denvir's facilities again. The move to Denvir's was prompted by the fact that the hotel could offer the versatility and comfort expected by our audiences. More recently in 2002 the club has been uprooted again due to refurbishment and redevelopment of Denvir's Hotel into a larger, modern tourist accommodation complex. The Club's latest and hopefully more long term home is The Avenue Bar, in St Patrick's Avenue, still in the centre of Downpatrick.
Downpatrick Folk Music Club is a centre for music excellence located in historic Downpatrick, Co. Down in Northern Ireland. It regularly features world-class, internationally acclaimed musicians, as well as local musicians and singer-songwriters, offering the very best in Traditional Irish, Folk, Blues, Bluegrass, Jazz and Popular music. Regardless of the experience of the performer, they are met by an enthusiastic audience who bring out their very best and make everyone want to return again and again.
The "Folk Club" has worked for over 25 years to promote and stimulate interest in local traditions, especially the exceptionally rich musical traditions of Downpatrick and further afield. It has hosted magical evenings of entertainment by the guest artists from around the world but the Folk Club has also fostered local talent, providing a forum and encouragement to emerging singer-songwriters and musicians to perform for an enthusiastic and friendly audience.
The Folk Club often conducts short courses and music workshops for anyone with an interest in developing their musical abilities, especially young people who will carry on the musical traditions of the area. The now world renowned ALTAN got their first break at Downpatrick when they won our folk talent competition under their previous name of Ragairne.
Everyone with an interest in music is welcome at the Downpatrick Folk Music Club, and once you've experienced its warm and friendly atmosphere and had a taste of the wonderful music on offer, you'll want to come back for more.
Our guest list has included The Chieftains, Altan, The Boys of the Lough, Dervish, Tommy Makem, Four Men and a Dog, Planxty, Any Old Time, Jimmy Crowley, Liam Og O'Flynn, Christy Moore, Luka Bloom, Mary Black, The Wildflowers, Cooney and Begley, Pumpkinhead, Deanta, Kieran Goss, Thom Moore, Mick Hanly, Paddy Keenan, Tamalin, Niamh Parsons, Sean Donnelly, Len Graham and Padraigin Ni h-Uallachain, The Bumblebees, Mary Bergin, Cran, Sean Ryan, Joe Burke, De Danann, Lunasa, Kieran Halpin, Michael McGoldrick, to name but a few.
And from abroad we have had the likes of The Battlefield Band, Dick Gaughan, Nic Jones, the Cajun Voyageurs from Lousiana, Sylvain Rondeau and David Papazian from Quebec, Kornog from Brittany, Peter Case (USA), Bruce Mathiske (Aus), Chris Smither (USA) - he performed at the Folk Club the night before his Jools Holland Show appearance!!!), covering music from many different forms ranging from blues to jazz and from Cajun to Scottish traditional.
COME ALONG AND BE PART OF THE LIVE FOLK MUSIC EXPERIENCE !