DOWNPATRICK FOLK CLUB COMMITTEE 2000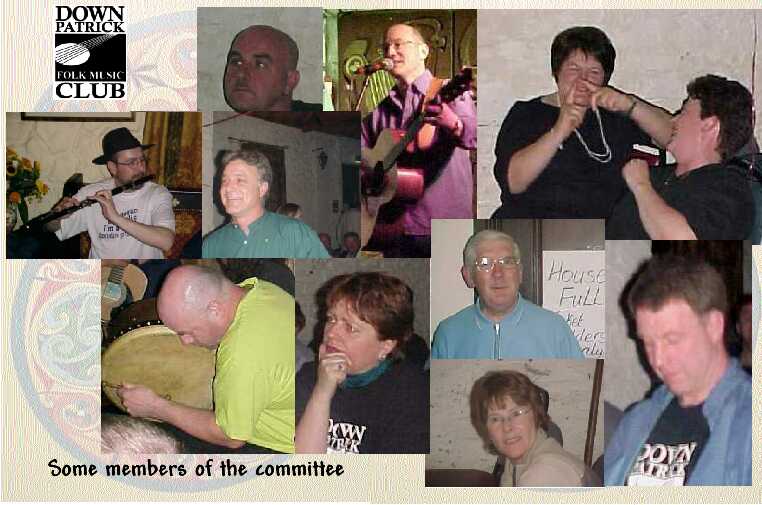 [I still have to capture a couple more! Liam and Paula Beware.]
Executive Officers
Colm McConville (Chair)
At the helm for another year is resident troubadour Colm McConville, from the Eastern Health Board Contracts Mafia. Determined to bring some money from America this year, Colm pledges to keep the ship afloat and not spring any new leaks since our move to Denvir's Hotel. Currently writing a Eurovision song.
Frances Rodgers (Secretary)
Schoolmarm Frances has the necessary disciplinary skills (and equipment) to keep the Committee in order. A keen aerobicist, Frances has been known to exercise (or is that exorcise) her tonsils in pursuit of folk music, but is careful to make sure they are well lubricated beforehand. An expert photocopier.
Liam "Spuds R Us" Byrne (Treasurer)
The Folk Club's own Charlie Dimmock, Liam ploughs a lone furrow through the Club's sometimes stony finances. Liam is almost totally tone deaf and loves Darragh Folk. As a senior Boy Scout leader, will this be his year to tie a knot?
Ian Clarke (Concert Programme Organiser)
Ian is a member of local folk beat combo Darragh Folk which makes Garth Brooks sound like a country star. He has the job of filling the Folk Club Diary for another season and uses his IT skills to twiddle the wee knobs on the Club mixing desk. Rumoured to be his mum's favourite singer after Val Doonican.
Committee Members
Roisin Layden
A committee escapee, Roisin was recaptured near the border disguised as a shepherd and will serve the rest of her sentence doing hard labour with the Committee promotions team. President of Mike McGoldrick Fan Club 1997-2000 (Saul Branch) and a useful committee officer as she is accustomed to handling noisy children.
Laura Plummer
Library Board supremo but not yet on the shelf, Laura returns (overdue) to the Commitee promotions team to help with Press Releases and publicity. A gifted plucker and yodeller in her spare time, when she's not playing guitar and singing. Lover of fine wines but willing to compromise for her art.
"Professor" Paul Phillips
Ulster Bodhran champion (again) Paul is also an instrument maker (ie he has made AN instrument). Paul's practical skills and manual dexterity (rather than his hair style) have resulted in his nickname "OddJob". Mixes his role of Club Promotions Officer, Stage Manager, carpenter, electrician and stamp licker. Application pending for job of Quality Control Manager at Miller's Brewery.
Aidan "Splinter" Milligan
Percussionist Aidan loves to beat things. Even batters his sausages! The Ardglass construction worker has helped to build up the Club's reputation by organising and promoting concerts and is a tireless cultural ambassador for folk music. His claim to fame is that he once played with Marian Bradfield's bongos! His New Year Resolution is to buy his own cigarettes.
Dave Dubose.
The Quiet Man of Lubbock, Texas, cowboy Dave has been involved in many hangings in the district - mostly of his own paintings. Also has an etching to be a songwriter but performs best when, like his canvasses, he's well oiled. A saddle sore member of the Funding posse.
Cathy McCormick
Belfast lecturer Cathy "Kate" McCormick brings her sophisticated city girl savvy to the Club promotion team. A perceptive music critic and secret fan of Kris Kristofferson. She says her rendition of "Sliabh Gallon Braes" has been praised by Sean Donnelly.
Paula Campbell
Committee debutante Paula has been recruited by the Funding team after talent scouts spotted her selling "Big Issues" in Ballymena. Her first challenge will be to buy Alfie Murphy a pocket calculator. No previous musical convictions.
Non-Executive Members
Brendan "Toots" Carson. (Ombudsman)
World Wide Whistler, "Hat Couture" fashion expert, poteen consultant and club Web Master, Brendan wears his Ombudsman Hat (a rather dashing black Fedora) to perform his ombudding duties for another season.
Alfie Murphy (Senior Admission Consultant)
Former health service employee, Alfie is the friendly public face of the folk club and expert in painlessly parting punters from their admission money. Has been known to break into song and dance, strange for someone married to the same woman for 40 years.