WHO IS BOB CHEEVERS ????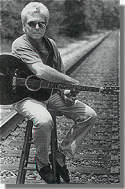 Bob grew up in Memphis, got a soul full of music first from his Mom who was a radio star in the late 20's then from home boys Elvis, Jerry Lee, Billy C. Riley, Carl Perkins and Johnny Cash. Early on, a tennis racquet became a make-believe guitar, and the radio became a conduit to what would be a lifetime of music. Moving to California after college, Bob landed his first in a series of major record deals on Dot, Paramount and Acta leading to a string of chart records and writing deals with publishing companies including MCA Music, Cobra Music, FMA Music and Criterion Music.
During the 1980's, after two of Bob's music videos won 8 Emmys including Best Musical Composition of 1986, he organized the "Bob Cheevers Sacramento Song Writers Showcase" which, for two years, featured high profile regional and national hit writers and became Bob's springboard to Nashville.
After moving to Nashville in 1991 and becoming a fixture in the performing scene, Bob once again put his organizational skills to use by producing an annual, 15- show benefit series at The Bluebird Cafe featuring Nashville's best in the writer/performer community with follow up CDs featuring performances from the shows. Raising $15-25,000 yearly for Nashville's Alive Hospice, it is still The Bluebird Cafe's most highly rated series.
Six years into the Nashville lifestyle, Bob realized the path of writing for other artists in the country market was not his calling. At the suggestion of his publisher, he re-tooled, went back to crafting Cheeversongs and within a year had a new CD and a new career. The result was GETTYSBURG TO GRACELAND which was played on over a hundred stations and went into The Gavin Americana top 20, was in the group from which were chosen the 1998 Grammy nominees for Best Contemporary Folk CD and was heard by Johnny Cash, resulting in an invitation to join him as the opener on his next tour.
Bob followed that with a 30 city summer tour of his own, along the way adding to his Kerrville New Folk Award by winning The Napa Folk Festival's Emerging Songwriter Award and a featured spot in the CBS Cable documentary Eye On People featuring Nashville Writers. Bob's songs have appeared in numerous movies and most recently on MTV's Road Rules and The Real World. THE STORIES I WRITE, Bob's new CD on Hayden's Ferry Records, is a Fall '99 release combining his Delta Folk style of story telling with a distinct Southern flavour and songs drawn from the well of personal experience. Its the obvious next step along the road that runs from Gettysburg to Graceland.



"Bob Cheevers takes his years of experience and wisdom and puts them directly on the platter with this mighty sweet taste of the South."
--Gavin Magazine

"An old songwriting hand with new insights...a rewarding listening experience."
--Rod Kennedy, Producer of the Kerrville Folk Festival

"Bob's lyrics definitely get the idea across very clearly of a time and place in history. Elvis was always a word man and would have enjoyed these songs very much."
--Gordon Stoker of "The Jordanaires"

"Bob is like Jackson Browne, Rodney Crowell and Lyle Lovett...none of them fit the standard mold."
--Bo Goldsen, Criterion Music, Los Angeles

"Bob is the 'New Mark Twain' and 'The Great American Writer'." --John Tita, Polygram Publishing, New York