SATURDAY 24th NOVEMBER
Buddy Mondlock (USA)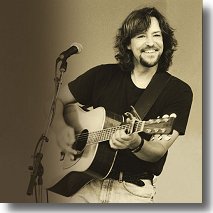 £5

Doors Open 8:30

You may not have heard of Buddy Mondlock but Garth Brooks, Nanci Griffith, Janis Ian, Joan Baez and Art Garfunkel know that he's one of the best contemporary songwriters in USA.



In the early '80s Mondlock became a regular performer on the Chicago club scene developing his songwriting skills and opening bills for major artists like Steve Goodman before headlining shows.

In 1986 he impressed Guy Clark at the Kerrville Folk Festival and was soon signed up with EMI.

He won the New Folk contest in 1987, opened the festival in 1988, and has been a regular on the main stage at Kerrville's summer and fall festivals ever since. In 1996 Mondlock earned The Kerrville Music Award's Song Of The Year for " The Kid" selected by industry principals and festival fans.

Mondlock co-produced his first album, On the Line in 1987 with Victor Sanders. His second, Buddy Mondlock, was produced by Steve Addabbo (Suzanne Vega, Shawn Colvin) and released in 1994 by Son Records. It includes guest appearances by Garth Brooks, Janis Ian, Shawn Colvin and Lucy Kaplansky.

Nanci Griffith recorded Mondlock's song "Coming Down in the Rain" on her Grammy award-winning album, Other Voices, Other Rooms. She has said of Mondlock, "Buddy represents the best of the new generation of singer-songwriters in folk music, ...he is one of my favorite new writers." Peter, Paul & Mary recorded "The Kid" on their recent album Lifelines.
| | |
| --- | --- |
| Downpatrick Folk Music Club is supported by: | |